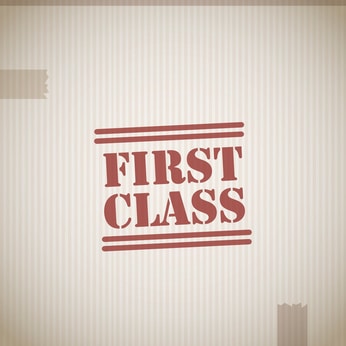 This is always a question that puzzles people. The answer is "It depends." So we thought it might help if we created some "rules" for your mailings. While not every mailing will follow one of the rules below, this list will give you a good idea of which class of mail you want to use.
Rule #1. You have a series of mailings and want them delivered sequentially, by a certain date. You'd like your mailing to be distributed with a similar amount of time between each mailing. If you are a marketing professional, this may be your standard for mailings. For example, you might create 3 mailings, on 3 benefits, and want to mail them 2 weeks apart from each other. But you also want them delivered before a certain date. If this description sounds a little like a mailing you may have planned, use First Class mail. Generally, mailings that are first class are delivered within 3-5 days of being dropped off at the post office. Not so with standard mail – delivery time can vary widely. A quick note: When CMS distributes your mailing for you, we commingle your mailing with that of other companies. This gives all of our customers a boost, since pricing will be lower because of the quantity we mail.
Rule #2. Cost overrules any other consideration. If the mailing doesn't need priority and budget is critical, choose standard mail. You can lower your costs considerably. But before you make the final decision, check with CMS. Our commingled mail may end up lowering your postage costs considerably.
Rule #3. The return data on your mailing is very important. There are several options from the post office for tracking your mail. And while both standard and first class are included in these options, the data you get back from first class mail is more extensive. CMS actually has a system, called Move Update, which reduces undeliverable mail. This system allows CMS to correct addressed before the mail is distributed. LEARN MORE.
Rule #4. Holiday Mailings. We recommend first class mail during the holidays. From Thanksgiving through Christmas is one of the busiest times for the post office. Think of all those Christmas catalogs you receive! If your holiday mail is important and you'd like to get it to the recipient on time, use First Class mail.
CMS is experienced in mailing all types of packages, mailings and promotional materials. We deliver envelopes and huge packages. And we know the business. It just makes sense to give us a call at 718-238-2919 when you are planning a mailing. We can give you pricing and delivery times – and take care of all the details for you!