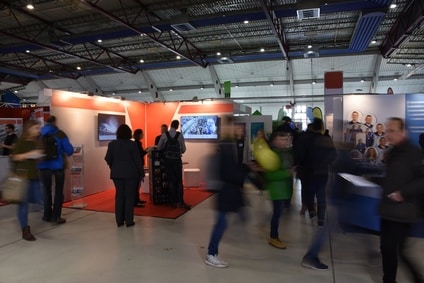 There are a lot of parts to consider when shipping materials to a tradeshow. The more efficient and thorough you are, the lower your resulting shipping costs will be. Take these questions into consideration:
Do you have a portable exhibit? If so, you may find it easier to transport these with you – either by car or airplane. Just make sure they are easy and light enough to carry. Be sure they fit in your car or if you are flying to the show, make sure the airline is not going to overcharge you because of weight restrictions. If you decide to ship them, give us a call.
Do you have a modular or custom exhibit? These types of exhibits generally have many pieces and come crated for easier handling. Carriers can differ greatly – as can their prices and availability. If this is the type of exhibit you have, give CMS a call at 718-238-2919. Based on the destination, materials and timeframe, we can take the stress out of planning and ship the materials for you – often at a less expensive price than you can get on your own.
When you arrive at the tradeshow. You'll need to know whether the tradeshow you attend will include exhibit setup. If not, you might want to hire a contractor to set up the booth for you. If your employees are trained on booth set up, you may want to remind them to get to the show early. You can also inquire beforehand on what the routine is for removing the exhibit crates and boxes from the booth area before the show begins.
Where next? Finally, consider where your booth ships, once it leaves the show. For some companies, that means returning the booth and components back to headquarters. For others, the booth may be shipped to the next show on your schedule. Having the details on location and dates for the next tradeshow will be important for ensuring safe and on-time arrival.
Proper planning can help you avoid unexpected fees during the show. Leave this stress to us.  CMS is experienced in handling and shipping tradeshow materials. Give us a call at 718-238-2919 – we'll make sure your materials arrive on time.